Here you'll find the building proces of the ClassGlobe580 #78 in English and French

.
Kolibri-jachtbouw
Dr. van Noortstraat 117c
2266 GV Stompwijk (Netherlands)
071-580 1502
info@kolibri-jachtbouw.nl
www.kolibri-jachtbouw.nl



Building jig ready
First step in building the CG580 #78.
The making of the building jig. This is a temporary frame construction. The bulkheads will be mounted in this frame.

Le bâti est prêt.
Première étape en vue de la la construction du CG580 numéro 78.
Voici la réalisation du bâti d'assemblage. C'est une structure temporaire sur laquelle seront montées les cloisons du bateau.
The plywood parts in superior mahogany plywood of 10 mm thickness. All plywood parts and the solid wooden frames are cnc milled with outstanding accuracy

Il est fait appel à un contreplaqué d'Acajou de qualité supérieure pour réaliser les pièces de contreplaqué (CP). Toutes les pièces de contreplaqué et la solide charpente de bois sont usinées par des machines à commande numérique, ce qui permet d'atteindre un niveau de précision remarquablement élevé.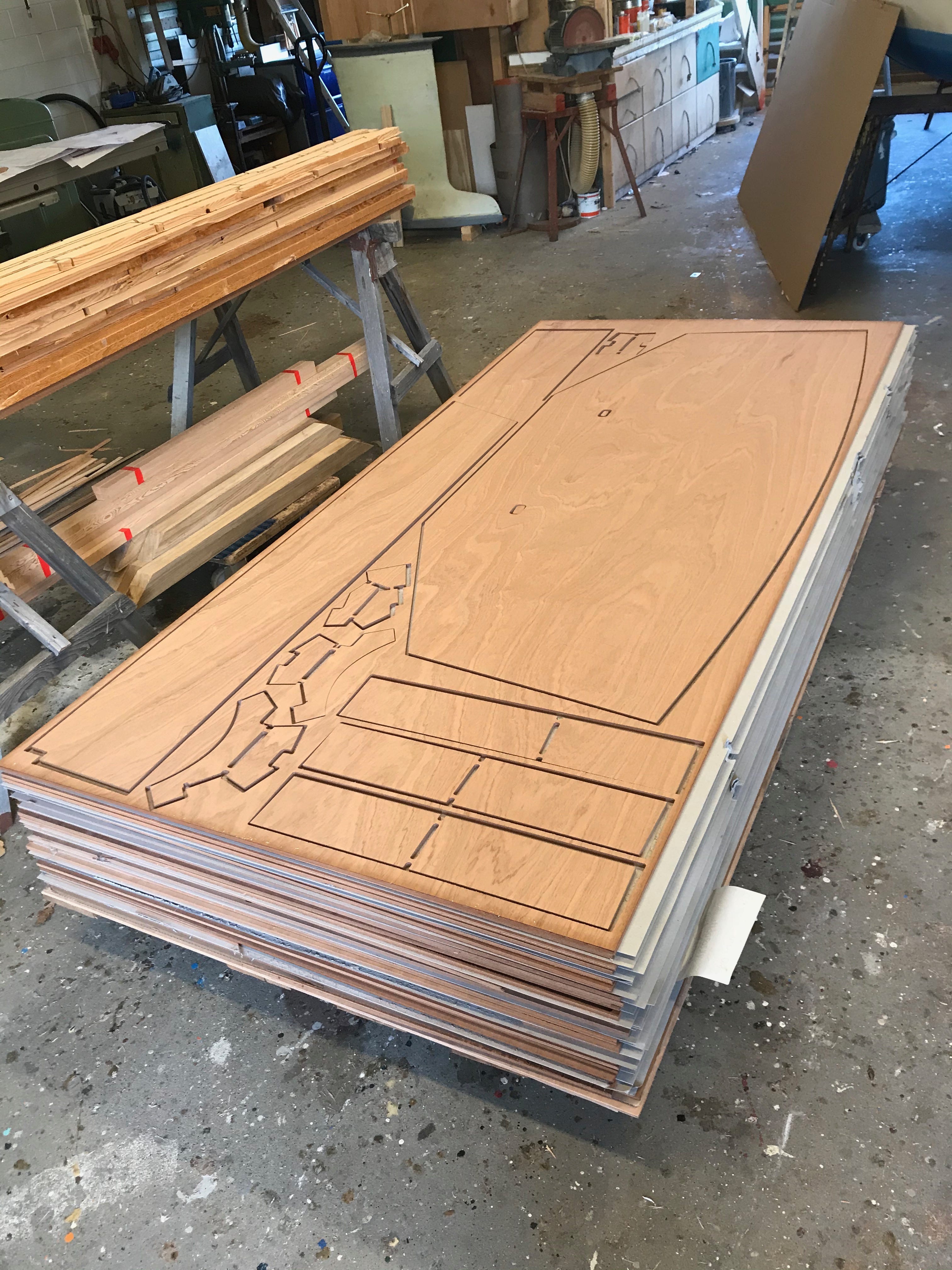 Solid wood
Obtaining good quality solid wood is not always easy. Fortunately, there is a very good timber trade business in the area. There we have found excellent quality orgeon pine for the battens and oak for the floors and mast support beams.
Next step is machining it to the right dimensions.

Bois solide
Se procurer un bois solide et de bonne qualité n'est pas toujours aisé. Par chance, un commerce de bois de premier rang est implanté à proximité. Nous y avons trouvé des bois d'excellente qualité, le pin d'Oregon pour les lattes, le chêne pour les planchers et pour les poutres qui supportent le mât. L'étape suivante consiste à l'usiner aux bonnes dimensions.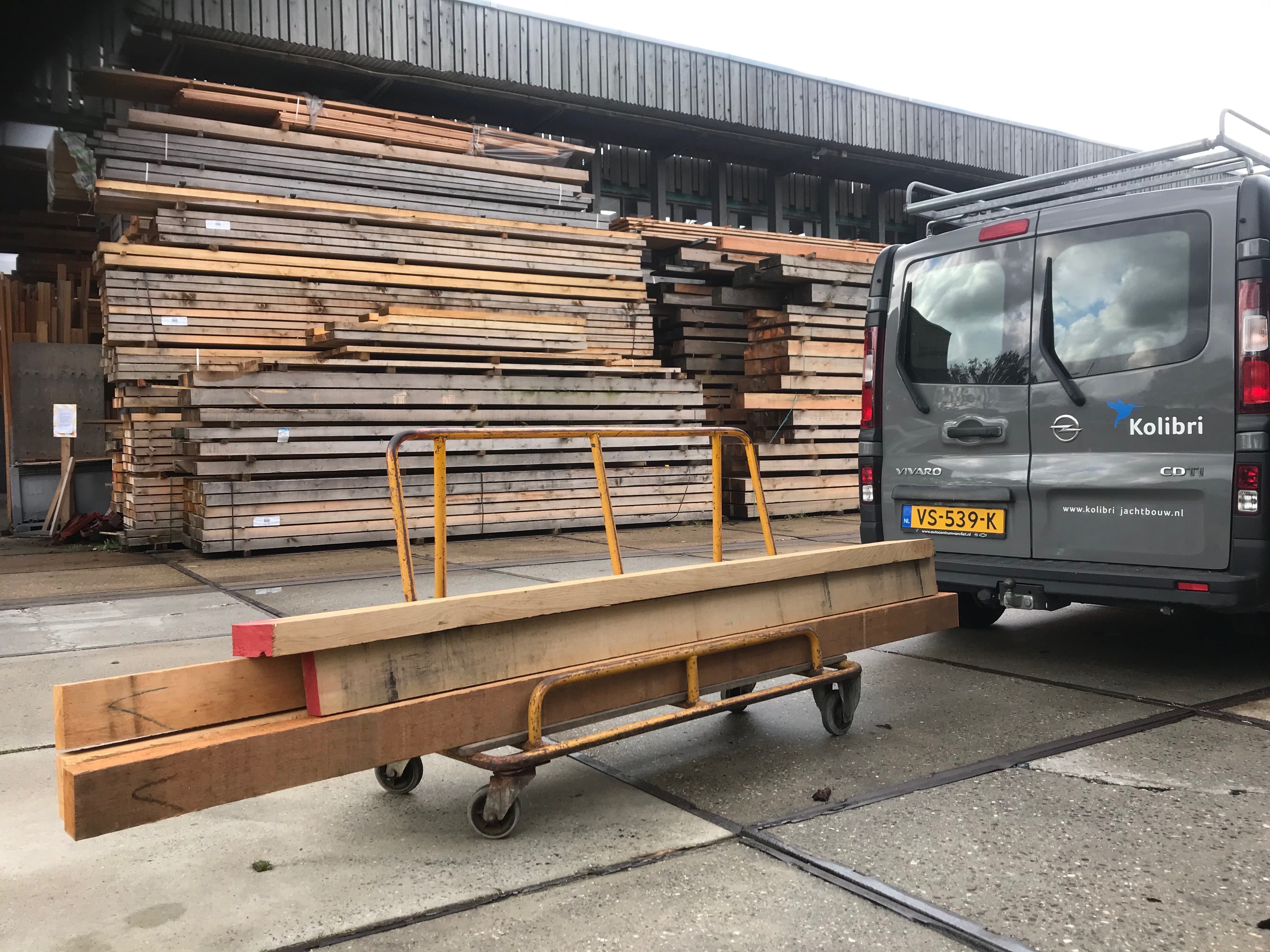 First step is coating all the plywood parts with a single layer of epoxy resin. For protection and sealing.

Toutes les pièces de contreplaqué sont d'abord enduites d'une couche de résine époxy. Pour assurer la protection et l'étanchéité.
All the wet parts are set to cure. The parts will be sanded before we further proceed. This avoids quite some work in hard to reach places later on.

Les pièces de contreplaqué ainsi enduites doivent maintenant sécher. Ces pièces seront ensuite sablées avant d'être utilisées pour le montage. Ce traitement permet de limiter l'ampleur des tâches à remplir plus tard dans les endroits difficiles d'accès.
After the sanding of all the parts the frames can be assembled. Thanks to the exactness off the building kit 'a pice of cake. However care must be taken to make the frames each symetrical.

Après le sablage de toutes les pièces, on peut procéder à l'assemblage des cadres de la structure. La grande précision des pièces formant le kit rend l'assemblage très facile (c'est du gâteau !). il faut toutefois veiller à respecter la symétrie des cadres.
Glueing and clamping of the gussets. They connect the solid wooden parts. The drawings supply the information needed to control measurements

Encollage et serrage des goussets. Les goussets servent à joindre entre elles les pièces de structure en bois. Les plans fournissent l'information nécessaire pour contrôler les cotes.
Glued, nailed en set to cure.

Après le collage et le clouage, vient le temps du séchage.
The making of some other parts
The keelfloors are made of oak. The sharp edges are rounded of and the first layer of epoxy is applied.

Les varangues au niveau de la quille sont en chêne. Les arêtes vives font l'objet d'une finition, et la première couche d'époxy est déposée.
The rudder and skeg are made of 40 mm ply with a glass reinforcement and sheeting. So here are 4 layers of 10 mm ply bonded togehter.

Le safran et le skeg sont constitués de contreplaqué de 40 mm d'épaisseur, et renforcés par la pose de couches de fibre de verre. Quatre plaques de contreplaqué de 10 mm sont collées ensemble à cette fin, comme illustré ici.
Next day the epoxy is cured and the base of rudder and skeg are ready for shaping.

Le lendemain, l'époxy est sec et les noyaux du safran et du skeg peuvent être façonnés.
Stringer and battens have to be 6 meters long. The available wood is 3.10. So with a scarf they are bonded together to get the sufficient length.

Les serres, et la serre-bauquière doivent mesurer 6 mètres de long. Le bois n'est disponible qu'en longueur de 3,10 m. Il faut donc pratiquer une entaille et recourir au collage pour obtenir la longueur désirée. Ensuite il faut encore sabler et pré-enduire d'époxy.
The bunksides consist of 2 parts. Here they are bonded to one. There needed with the setting up in the building jig.

Les panneaux latéraux des bannettes sont constitués de deux pièces. Cette vue montre l'opération de collage qui a pour finalité de réunir les deux pièces. On a besoin de ces panneaux pour disposer les éléments de la structure sur le gabarit d'assemblage.
Setting up the hull frame
Finally it's time to set up the frames in the building jig.

Le temps est venu d'installer les couples dans le gabarit d'assemblage.
The shape of the hull is becoming clear.

On devine maintenant la forme de la coque.
A look from transom to stern. Bunksides and cockpit sides are in place and help determine the correct measurements.

Voici une vue du panneau arrière jusqu'à l'étrave. Les panneaux latéraux des bannettes et du cockpit sont en place. Ils permettent d'assurer l'alignement et le respect des cotes.
Glueing the stringers and battens is also a preciese task. The frames have to be beveled to get them on the right angle and height.

Le collage des serre-bauquières et des serres est aussi une tâche qui requiert de la précision. Les cadres de la structure doivent être biseautés pour obtenir le bon angle et la hauteur optimale.
Especially the battens need care. the centreline of the batten must be on the correct height. So that there is enough material to plane them in the right angle. Here a simple self- made tool to check this.

Les serres surtout requièrent un soin particulier. Il faut s'assurer que la ligne médiane de la serre est à la bonne hauteur. De sorte qu'il y ait assez de matière pour les dresser au rabot avec le bon angle. Voici un outil simple, réalisé par moi-même, pour vérifier cela.
There is considerable force needed to get the battens in the right curve. It means bending and twisting. Therefore we keep an eye on the frames to be sure that the boat stays symmetric.

Il faut exercer une force considérable pour obtenir la courbure appropriée des serres. Cela consiste en un cintrage et une torsion. Nous surveillons donc les cadres de la structure pour vérifier que le bateau reste symétrique.
When they are all installed the lines become visible. Always a nice moment.

Quand les serre-bauquières et les serres sont en place, les lignes sont visibles. C'est toujours un moment de plaisir.
Then follows the 'hard manual labour'. Planing the battens and the frames in the right angles. In that way we make an even and smooth surface for the hull plates.
On the picture you see that I've fastened a simple alignment stick on the plane.

S'ensuit le « dur travail manuel », qui consiste à dresser au rabot les serres et les cadres aux bons angles. Cette opération permet d'obtenir des surfaces planes et lisses prêtes à recevoir les plaques de la coque. Sur cette photo, j'ai fixé un simple bâtonnet d'alignement sur le rabot.
The hull plates are mounted with screws to check if it all fits. When they do they are removed and the epoxy glue is applied in a sufficient quantity. Then the plates are screwed back on.

Les plaques de la coque sont d'abord montées avec des vis pour vérifier leur ajustement. Quand l'ajustement a été obtenu, elles sont déposées et la colle époxy est appliquée en quantité suffisante. Ensuite, les plaques sont vissées.
To get some guidance during the mounting some tacticly applied nails can be used. Then the plate is screwed on in such a way that it's tightly clamped to the frames, battens and stringers. You can see this by the glue which is pressed out of the joint.

Pour faciliter le positionnement pendant le montage on peut utiliser quelques clous à des fins tactiques. Puis la plaque est vissée de telle sorte qu'elle soit étroitement serrée sur les couples, les serres et les serre-bauquières.
The underlaying butt blocks are clamped by using short screws which won't make holes on the inside.

Les plaques de recouvrement sous-jacentes sont serrées par des vis courtes qui ne feront pas de trou côté intérieur.
On the inside you can see that the excesive glue is pressed out. In that way we're sure to have a good bonding.

Côté intérieur, vous pouvez constater que le surplus de colle a été chassé. De cette façon, nous sommes sûrs que le collage est parfait.
The excessive epoxy on the inside is removed before it cures. Here you also see the butt block on the inside. It will take some agility to crawl under an through the upside standing boat. No worries. It will keep you fit.

Le surplus d'époxy côté intérieur est enlevé avant le durcissement. Sur cette photo prise de l'intérieur vous pouvez aussi voir la plaque de recouvrement sous-jacente. Ramper sous une coque renversée requiert un peu d'agilité. Pas de soucis, cela maintient en forme.
Glass laminating the hull
Next step is laminating the glass-epoxy on the seams and the entire hull.
Minimal required: 1200 g/m2 on bottom-chine and 600 g/m2 on chine-side, transom-hull and stem-hull. Due to availability we use 1350 and 700 g/m2.

L'étape suivante consiste à appliquer tissu de verre et époxy par couches successives sur les lignes de jonction et la coque entière. Minimum requis : 1200 g/m2 sur le bouchain inférieur, 600 g/m2 sur le bouchain latéral, la jonction tableau arrière-coque, et la jonction étrave-coque. En raison de leur disponibilité, nous avons utilisé 1350 et 700 g/m2 respectivement.
After laminating the glass strips on the seams the entire hull is covered with 280 g/m2 glass cloth. (200 g/m2 is sufficient for a mahogany hull). All is laminated wet--in-wet for a superior bonding.

Après avoir stratifié les lignes de jonction, la coque entière est couverte de tissu de verre de 280 g/m2.(200 g/m2 est suffisant pour une coque en CP d'acajou). Tout est stratifié mouillé-sur-mouillé pour un collage de qualité supérieure.
After a 12 hour working day the entire hull is glassed. Time for a well deserved break.

Après une journée de 12 heures de travail, toute la coque est stratifiée. Il est temps de faire une pause bien méritée.
Next day: applying fairing filler. By doing this right the next day we achieve a chemical bonding. You can judge the quality of the laminating by the amount of fairing filler which is needed. As you can see we didn't have to use much. About 3 kg.

Le jour suivant : on applique un enduit de finition. Le faire juste le lendemain permet d'obtenir un collage par réaction chimique. Vous pouvez juger de la qualité de la stratification par la quantité d'enduit de finition utilisée. Vous pouvez voir que nous en avons peu utilisé. Environ 3 kg.
After sanding it's time to apply the first layer of epoxy on the entire hull.

Après sablage, vient le moment d'appliquer la première couche d'époxy sur la coque entière.
This layer seals the glasfiber and fairing, and gives (after sanding) a smooth base for the paint.

Cette couche enferme hermétiquement la fibre de verre et la couche de finition, et forme (après sablage) un support parfait pour la peinture.
The waterline is put on with help of a laser. We put it 6 cm higher than the drawing. That prevents fouling and dirt around the waterline.

La ligne de flottaison est matérialisée à l'aide d'un laser. Nous l'avons positionnée 6 cm au-dessus de la ligne définie sur le plan. Ceci pour éviter l'apparition de parasites et de salissures au-dessus de la ligne de flottaison.
On the underwater part of the hull is an extra layer of epoxy which is already sanded for a good bonding off the later to apply anti-fouling. The part above the waterline is painted with a layer of 2-comp. DD paint. Final layers and colour will follow when the boat is nearly completed.

La partie immergée de la coque reçoit une couche supplémentaire d'époxy. Un sablage permet de garantir une bonne adhérence avant l'application de l'anti-fouling. La partie émergée de la coque reçoit une couche de peinture « 2-comp. DD ». Les couches finales et la couleur suivront lorsque le bateau sera en fin de chantier.
UPSIDE DOWN? After turning the hull this is what we see.


A l'ENVERS? La vue qui s'offre après le retournement de la coque.
The cockpit part of the boat.


La section du cockpit.
Nice woodwork in sight.


Un joli travail du bois.
The cabin seat tops are glued on the frames and bulkheads. Cable gutters are installed in such a way that they will be behind the backrest.

Les assises des banquettes de cabine sont collées sur les cadres et les cloisons. Nous avons fait en sorte que les goulottes de cheminement des fils électriques soient positionnées derrière le dossier.
Backrest and storage areas installed. All pre varnished. Shelves behind. Holes in the seats will be covered with watertight commercial brand (plastimo) hatches.

Les dossiers et les espaces de rangement sont installés. Tout a été pré-vernis. Des rayonnages ont été aménagés derrière les dossiers. Les découpes dans les assises vont être fermées par des trappes étanches de la marque PLASTIMO.
Mock up off galley area, to see if it all fits. Double methanol burner (origo). Will be gimbal in real. A battery will be installed underneath this burner on the bottom of the boat to keep the center of gravity as low as possible.

Une maquette du coin cuisine, pour vérifier l'intégration de tous les composants. Un réchaud à alcool (méthanol) à deux brûleurs de la marque ORIGO. Sa version définitive sera montée sur cardan. Une batterie sera installée dans l'espace sous le réchaud, au niveau du fond du bateau, pour maintenir le centre de gravité aussi bas que possible.
Mock up of navigation area. Big table with foldable worktop. Plenty of storage room underneath. As well as in the galley the battery will be installed underneath this storage space on the bottom of the boat to keep the center of gravity as low as possible.
The cupboard above the tabletop gives space for the electric and instruments panel.

Une maquette du coin navigation. La large table à cartes intègre un plan de travail rabattable qui donne accès à un grand volume de rangement sous la table. A l'instar du coin cuisine, une batterie sera installée sous cet espace de rangement, sur le fond du bateau, pour contribuer à l'abaissement du centre de gravité. L'armoire située au-dessus de la table à cartes offre un volume dédié au tableau électrique et au panneau instruments.
Main bulkhead. Looking aft from the bow. Hole for watertight commercial brand (GEBO) hatch sawn out. And extra watertight bulkheads glued in were the bunktop will be glued on. In this way we create extra watertight compartments and we stiffen the hull even more.

La cloison principale, vue de l'avant vers l'arrière. La cloison a été découpée pour recevoir une trappe étanche de la marque GEBO. Des cloisons supplémentaires ont été réalisées, sur lesquelles sera collé le plancher du lit. De cette façon, nous créons des compartiments étanches additionnels, et nous renforçons davantage la rigidité de la coque.
Extended crashbox foamfilled.
Le crash box rallongé a été rempli de mousse de flottabilité.
Bunktops glued on.
Le plancher du lit double a été collé.
4 useable watertight compartments.
4 compartiments étanches peuvent servir au rangement.
Hatches installed.
Les trappes étanches sont en place.
Galley area varnished.
Le coin cuisine a été verni.
Here we see the skeg doubler. It's glued in before the cockpit floor is installed. It's an extra reinforcement plate on the bottom. This makes the hull there 30 mm thick! All the hard to reach places already in the final layer off epoxy resin.

Voici le renfort de skeg. Il est collé avant l'installation du plancher du cockpit. Il s'agit d'une plaque de renfort additionnelle que l'on installe sur le fond, dans le cockpit. Elle permet de porter l'épaisseur de la coque à 30 mm à cet endroit ! A ce stade, toutes les zones d'accès difficile ont déjà reçu la couche finale de résine époxy.
The cockpit construction just before the floor, seats and side decks are glued on.

Ici le cockpit en construction, juste avant le collage du plancher, des banquettes, et des plats-bords.
There's a sufficient amount of buoyancy foam installed underneath the cockpit floor.

Nous avons introduit de la mousse de flottabilité sous le plancher du cockpit en quantité suffisante pour avoir un effet efficace.
The cockpit floor, seats, and side-decks installed.

Vue du cockpit après la pose du plancher, des banquettes, et des plats-bords.
After installing the cabin side battens the cabin sides are glued (and screwed) on.

Après l'installation des serres latérales de la cabine, les plaques latérales de cabine sont collées (et vissées) dessus.
Next step is fitting and glueing in all the deck / roof support beams. Wise to keep the measurements off the deck hatches in mind.

L'étape suivante consiste à fixer et coller les barrots qui supportent le pont / rouf. Il est sage de garder à l'esprit les cotes des panneaux de pont pour cette opération.
Pre-mounting the roof / deck plates on the framework. Before definitly glueing them we paint all the deck beams, insides of the cabin sides and the undersides of the deck plates. The last ones in white.

Ici les plaques couvrant le rouf /pont sont pré-montées sur la structure. Avant leur collage définitif, nous peignons les barrots du pont, la face intérieure des plaques latérales de cabine, et la face inférieure des plaques du pont. Ces dernières en blanc.
As prescribed on the drawings, all the seams are laminated with a glass band off min. 200 g/m2. We use 250 g/m2.

Si l'on se réfère aux prescriptions contenues dans les plans, toutes les lignes de jonction sont stratifiées d'une bande de tissu de verre de 200 g/m2. Nous utilisons une bande de tissu de verre de 250 g/m2.
Then the whole surface is covered with glass cloth off 200 g/m2.

Ensuite, toute la surface est couverte de tissu de verre de 200 g/m2.
Here we see the glass cloth on the observation dome, cabin top / sides and foredeck. It also overlaps the topside, hull joint.

Le tissu de verre recouvre le dôme d'observation, les surfaces supérieures et latérales de la cabine, la plage avant. Il recouvre aussi la ligne de jonction de la carène et du pont (livet).
The compagnion way hatches are made in according to the principle as sketched on the drawing.

Les panneaux de descente ont été réalisés selon le principe défini par le plan.
The upper one slides in the double roof of the observation dome.

Le panneau de descente supérieur s'escamote dans le double toit du dôme d'observation.
The lower board folds down.

Le panneau de descente inférieur se replie vers le bas.
The rudder is made of 4 layers mahogany plywood 10mm. Glued together to a thickness off 40 mm. Then it's shaped in the right profile. Also the rudder fittings are pre-mounted . The glass reinforcement as prescribed is laminated.

Le gouvernail, d'une épaisseur de 40 mm, est composé de 4 couches contrecollées de contreplaqué d'acajou de 10 mm. Il est ensuite mis en forme pour le profiler de façon optimale. Les ferrures de gouvernail sont aussi pré-montées. Le renfort en tissu de verre est stratifié selon les prescriptions.
As indicated on the drawings the underside of the rudder is glass-laminated also.

Comme indiqué sur les plans, la face inférieure du gouvernail est elle aussi stratifiée avec du tissu de verre.
The rudder finished and in it's place.

Ici, le gouvernail est fini et mis en place.
After fairing the upper site it's time to paint the cockpit, decks, cabin and observation dome.

Après avoir finalisé la coiffe des éléments supérieurs, il est temps de réaliser les travaux de peinture du cockpit, des ponts, des flancs de cabine, du dôme d'observation.
A very colorful combination. Hard to miss on the water.

Une combinaison de couleurs qui attire l'œil sur l'eau.
According to the rules of the ClassGlobe organization the bare boat must be weighed in this stadium of build. Here's the way we've done that.

Selon les règles de l'organisation ClassGlobe, le bateau doit être pesé à cette étape de la construction, coque, cockpit et pont nus. Ici une illustration de la méthode de pesée.
The result is clear: 554 kg. An expected outcome.

Le résultat est là : 554 kg. Le résultat est conforme à l'objectif.
It takes some time to align the stern swords. Lots if things have to be taken in account.

Il faut un certain temps pour bien aligner les dérives sabre de poupe. De nombreux facteurs doivent être pris en compte.
Outboard, engine, prescribed place and angle, reinforcements on the inside etc. So lots of pre- measurement before the holes are drilled.

Il faut déterminer l'emplacement et l'angle d'inclinaison du moteur hors-bord, renforcer le tableau arrière (les renforts sont réalisés côté intérieur), etc. Autant de mesures à effectuer avant de procéder au perçage des trous.
Two stainless steel reinforcements strips are bolted in, as by plan.


Deux équerres de renfort en acier inoxydables sont boulonnées suivant le plan.
Companionway hatches installed
All hatches open.

Les deux panneaux sont ouverts.
Floor board up and fixed.

Seul le panneau inférieur est relevé et fixé en position fermée.
Upper hatch closed and sealed.

Le panneau supérieur est fermé à son tour. L'ensemble est étanche.
It's time to take a good look at the deck lay-out. The blue shark deck package is used for the boat.

Il est temps d'examiner attentivement le plan de pont. Le bateau reçoit un pack d'accastillage Blue Shark.
For the deck hatches we use GEBO hatches. Ocean proof.
For ventilation Vetus UFO2.

Nous utilisons des produits Gebo pour les panneaux de pont, et des produits Vetus UFO2 pour la ventilation.
Self tailing winches: Lewmar 15ST. Jammers: easylock mini.

Les winchs autoembraqueurs (self-tailing) sont des Lewmar 15ST. Les bloqueurs sont des Easylock mini.
Bilge pump system (manual)
In the bilge is a 38 mm hose with strainer of about 1 meter. The strainer is lying loose in the bilge. In this way it can be placed where necessary. A non return valve is glued in the bunk riser.
The bilge pump has a sliding handle, which is impossible to loose, and is mounted in the bunk riser.

En fond de cale est placé un tuyau de 38 mm équipé d'une crépine d'aspiration, d'une longueur d'1 mètre environ. La crépine n'est pas fixée sur le fond de cale, ce qui permet de la déplacer lorsque nécessaire. Un clapet anti-retour est collé sur le montant de la couchette. La pompe d'assèchement dispose d'une poignée coulissante que l'on ne peut pas perdre. La pompe est fixée sur le montant de la couchette.
Underneath the bunk runs the hose from the non return valve to the bilge pump inlet. From the pump outlet its runs further to the second bilge pump which is installed in the cockpit.


Sous la couchette court le tuyau entre le clapet anti-retour et l'entrée de la pompe de cale. Il se prolonge depuis la sortie de pompe jusqu'à la seconde pompe de cale qui est installée dans le cockpit.
The inlet and outlet of the cockpit bilge pump. This has a by-pass so both pumps can work undependable of each other.

L'entrée et la sortie de la pompe de cale située dans le cockpit. Un système de dérivation (by-pass) permet d'actionner les pompes indépendamment l'une de l'autre.
Cockpit bilge pump with retracted handle.

La pompe de cale située dans le cockpit, ici avec la poignée en position rétractée.
The outlet hose running to the through-hull fitting.

Le tuyau de refoulement court jusqu'au passe-coque
Bilge pump system electric
The electric automatic switched pump. The Rule LP 900S has a capacity of 900 gallons. Which is a about 20% more than the mandatory 3000 liter.
It's located behind the watertight bulkhead which separates the fireship from the cabin. All the compartments in the forepeak are watertight. So in case of a severe hull damage only a small compartment can be flooded.

Pompe de cale électrique automatique, la pompe RULE LP 900S a une capacité de 900 Gallons, ce qui représente une valeur supérieure de 20 % à la capacité requise de 3000 Litres. Elle est placée derrière la cloison étanche qui sépare la section avant de la cabine. Tous les compartiments dans la section avant sont étanches. Ainsi, en cas de dommage sévère à la coque, seul un petit compartiment sera susceptible de se remplir d'eau.
Here you can see the hose running to the through-hull fitting in the upper part off the hull.
The black fitting near the pump is a non return valve.

Vous pouvez voir ici le tuyau de refoulement qui va rejoindre le passe-coque dans la partie supérieure de la coque. Le raccord de couleur noire à proximité de la pompe est un clapet anti-retour.
This is how it looks on the outside. There's also a teak rubbing rail made to minimize docking damage.

Voici à quoi cela ressemble vu de l'extérieur. Il y a aussi un liston de teck ayant pour fonction de minimiser les dommages lors des accostages à quai.
After assembling the Selden mast it's time to rig the boat. As it's not in the water yet we keep the keel off to minimise climbing up and down ladders.

Après avoir assemblé le mât Selden, le moment est venu de gréer le bateau. Celui-ci n'est pas encore à l'eau. La quille n'est pas installée pour minimiser les montées et les descentes sur les échelles.
Luckily enough all stays and shrouds fit. After bringing it all on the right tension it's time to sort out al the lines of the running rigging.

Heureusement les étais et les haubans sont à la bonne longueur. Après avoir réglé leur tension, la tâche suivante consiste à organiser le cheminement des brins du gréement courant.
Rather busy at the mastbase. There are a lot of halyards to deal with. 2x genoa, 2x genakker and 2x mainsail . Furthermore storm jib, 3 reefing lines, outhaul and downhaul.

Le pied de mât est un point de cheminement chargé. De nombreuses drisses passent dans les poulies frappées en pied de mât. 2 drisses pour les génois, 2 drisses pour les gennaker (spinnakers asymétriques A3 et A5), 2 drisses pour la grand-voile, S'ajoute à cela la drisse du tourmentin, les 3 bosses de ris, la bosse de point d'écoute et le cordage de hale-bas.
Here's the result on starboard side.

On découvre ici le cheminement final de ces cordages sur le côté tribord du pont.
And the port side.

Et sur le côté bâbord du pont.