Here you'll find the building proces of the ClassGlobe580 #78 in English and French

.
Kolibri-jachtbouw
Dr. van Noortstraat 117c
2266 GV Stompwijk (Netherlands)
071-580 1502
info@kolibri-jachtbouw.nl
www.kolibri-jachtbouw.nl



Building jig ready
First step in building the CG580 #78.
The making of the building jig. This is a temporary frame construction. The bulkheads will be mounted in this frame.

Le bâti est prêt.
Première étape en vue de la la construction du CG580 numéro 78.
Voici la réalisation du bâti d'assemblage. C'est une structure temporaire sur laquelle seront montées les cloisons du bateau.
The plywood parts in superior mahogany plywood of 10 mm thickness. All plywood parts and the solid wooden frames are cnc milled with outstanding accuracy

Il est fait appel à un contreplaqué d'Acajou de qualité supérieure pour réaliser les pièces de contreplaqué (CP). Toutes les pièces de contreplaqué et la solide charpente de bois sont usinées par des machines à commande numérique, ce qui permet d'atteindre un niveau de précision remarquablement élevé.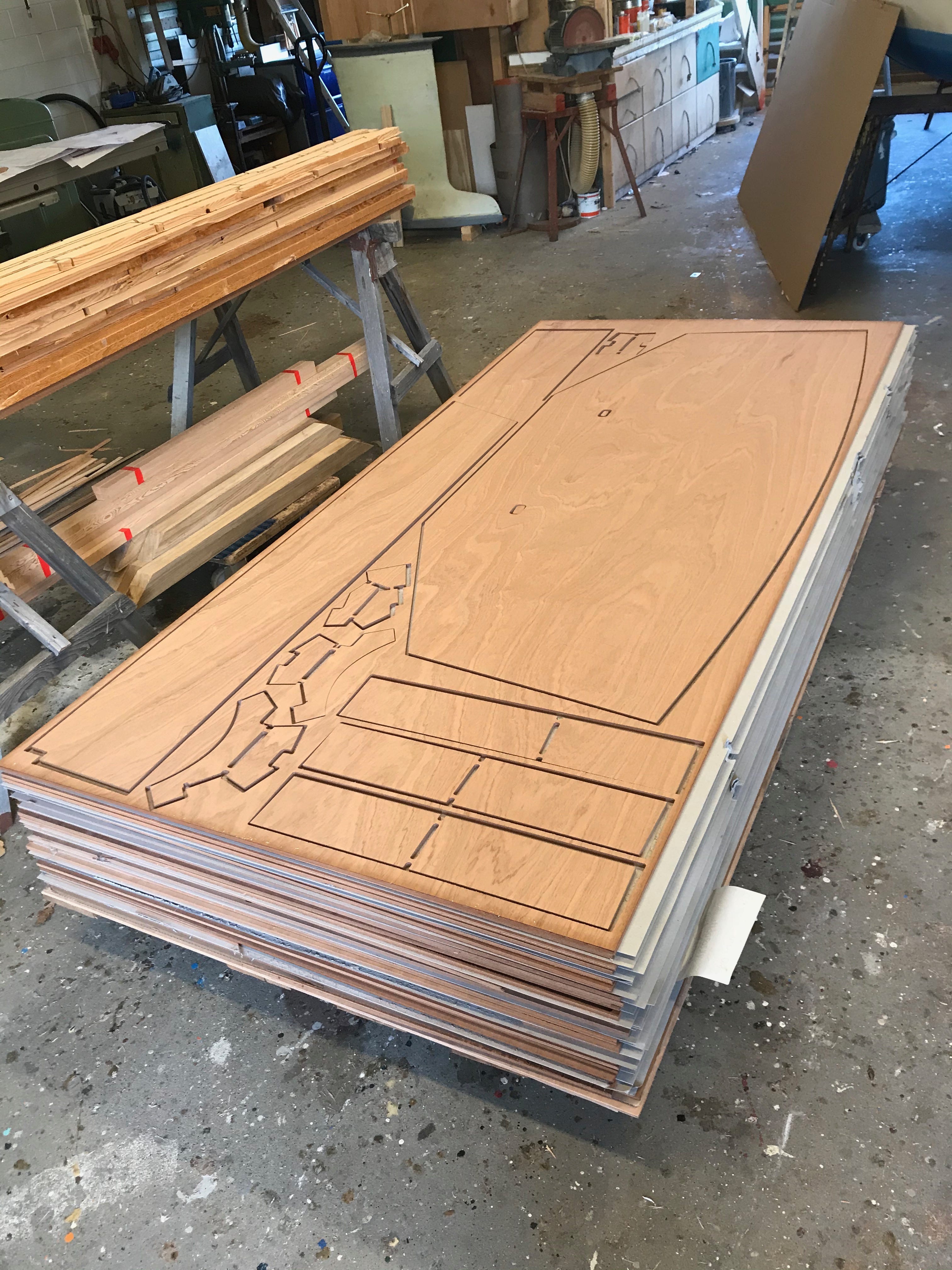 Solid wood
Obtaining good quality solid wood is not always easy. Fortunately, there is a very good timber trade business in the area. There we have found excellent quality orgeon pine for the battens and oak for the floors and mast support beams.
Next step is machining it to the right dimensions.

Bois solide
Se procurer un bois solide et de bonne qualité n'est pas toujours aisé. Par chance, un commerce de bois de premier rang est implanté à proximité. Nous y avons trouvé des bois d'excellente qualité, le pin d'Oregon pour les lattes, le chêne pour les planchers et pour les poutres qui supportent le mât. L'étape suivante consiste à l'usiner aux bonnes dimensions.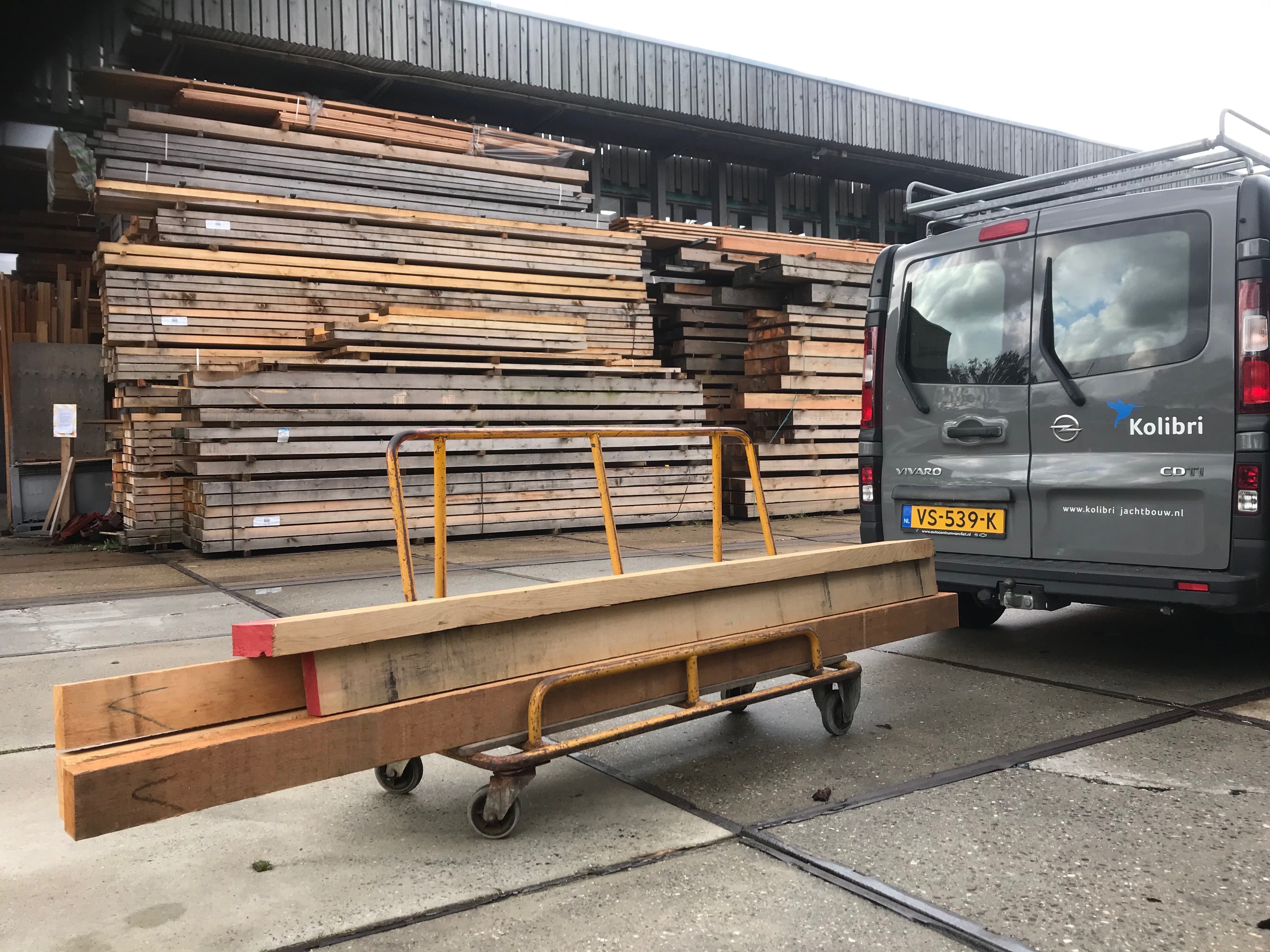 First step is coating all the plywood parts with a single layer of epoxy resin. For protection and sealing.

Toutes les pièces de contreplaqué sont d'abord enduites d'une couche de résine époxy. Pour assurer la protection et l'étanchéité.
All the wet parts are set to cure. The parts will be sanded before we further proceed. This avoids quite some work in hard to reach places later on.

Les pièces de contreplaqué ainsi enduites doivent maintenant sécher. Ces pièces seront ensuite sablées avant d'être utilisées pour le montage. Ce traitement permet de limiter l'ampleur des tâches à remplir plus tard dans les endroits difficiles d'accès.
After the sanding of all the parts the frames can be assembled. Thanks to the exactness off the building kit 'a pice of cake. However care must be taken to make the frames each symetrical.

Après le sablage de toutes les pièces, on peut procéder à l'assemblage des cadres de la structure. La grande précision des pièces formant le kit rend l'assemblage très facile (c'est du gâteau !). il faut toutefois veiller à respecter la symétrie des cadres.
Glueing and clamping of the gussets. They connect the solid wooden parts. The drawings supply the information needed to control measurements

Encollage et serrage des goussets. Les goussets servent à joindre entre elles les pièces de structure en bois. Les plans fournissent l'information nécessaire pour contrôler les cotes.
Glued, nailed en set to cure.

Après le collage et le clouage, vient le temps du séchage.
The making of some other parts